Related Blog Posts:
ASHRAE Recommendations for Aerosol Exposure Reduction
Ventilation. Does Your Home Have It? Probably Not.
The Case for Airborne Transmission of COVID-19
A Quick Blueprint for Building Readiness
Buildings: Our First Line of Defense in Combating Viruses. It's Time to Fight Back!
The Importance of Airflow Control, Humidity and Ventilation in Healthcare Facilities
HVAC TECHNOLOGIES TO CONSIDER:
Humidity Control – Winter, flu season and the second wave of COVID-19 are here! Taking measures to add humidification to your building today. It is vital to maintain relative humidity levels between 40% and 60% to limit the range where bacteria and viruses thrive. Prevent the spread of airborne diseases and ensure that the healthy indoor parameter is met with a correctly engineered humidification system in your building. We are willing and able to size the proper Condair humidifier for application and even install it if needed. Our Service and Parts Teams are also available to get your existing system up and running.
Bipolar Ionization – Effective bipolar ionization technology ensures ions get into spaces where they successfully clean the breathing zone and surfaces. This technology is proven to be highly effective in both laboratory and situ testing against MS2 Bacteriophage, Staph, MRSA, and C. difficile, showing significant reduction of bacteria and viruses. Ask us about how to correctly apply Plasma Air bipolar ionization today.
Additional Resources regarding Bi-Polar Ionization & COVID-19: Independent lab studies on Plasma Air HVAC devices
Third-Party Test Results Show A Reduction in Coronavirus Surrogate by 99% Airborne and 80% on Surfaces in 10 Minutes
UVC Light – Every microorganism requires a specific UVC dosage for inactivation, including coronavirus. While UV systems have not been specifically tested against coronavirus, they have been tested and proven effective against similar pathogens, some that require an even greater dosage for inactivation than coronavirus. UV disinfection systems for room, surface & HVAC are an ideal proactive measure to complement filtration. Microorganisms, particularly viruses, are so small that non-HEPA filters are mostly ineffective. The UV systems have also been shown to reduce problematic molds and pathogens that are found within the HVAC system and drain pans that would otherwise be introduced and distributed throughout the envelope of the building. Exposure Time and Dosage are critical in order for UVC to be effective. Ask us today about sizing up a Fresh-Aire UV system for your needs.
Filtration – With particulates, the most dangerous and troublesome particles are the smallest particles. Biological contaminants (e.g. mold, bacteria, and viruses) are a subset of particles. There are a number of sources, both inside and outside, that MERV 13+ filtration can help control. See if we can help you upgrade the filter efficiency in your HVAC systems today with Dynamic Air Quality Solutions or The Filtration Group.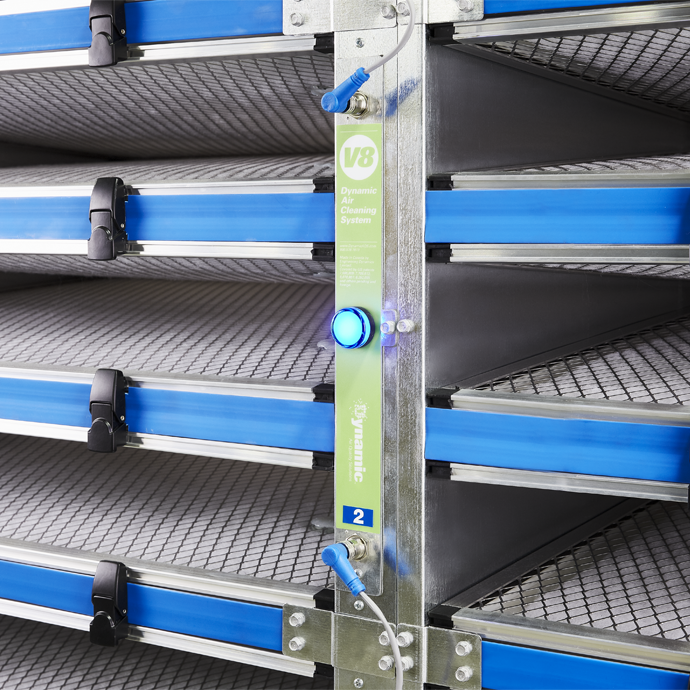 Indoor Air Quality Monitoring – With the ongoing COVID-19 crisis, 'ventilation management' is vitally important. We should begin treating all buildings as critical environments and Aircuity knows how to do this. A holistic management solution is required to create environments with healthy air for all building occupants. The key is measuring and controlling based on multiple parameters and directing more air when and where needed.
AAON's Paper on Indoor Air Quality