Yesterday (September 15, 2020) marked the official release of WELL v2. The WELL Building Standard™ version 2 (WELL v2™) is a vehicle for buildings and organizations to deliver more thoughtful and intentional spaces that enhance human health and well-being.
The new version includes a set of strategies—backed by the latest scientific research—that aim to advance human health through design interventions and operational protocols and policies and foster a culture of health and wellness.
WELL is an investment in the world's most valuable asset – people
The overarching theme behind the WELL Building Standard is to:
Prioritize the health and well-being of your employees
Align real estate, operations, human resources and the C-suite under a shared vision for health
Enhance your brand through market leadership
Validate your commitment through rigorous third-party review and onsite testing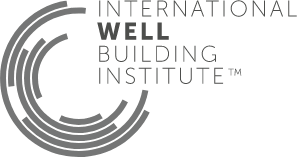 The WELL Building Standard is developed by the International WELL Building Institute (IWBI), who's goal is to transform buildings and organizations in ways that advance health and well-being to help people thrive. This has been their mission since they launched WELL in 2014. IWBI has channeled six years of expertise from a diverse community of WELL users, practitioners, public health professionals and building scientists around the world into a more accessible, adaptable and equitable rating system. The system is anchored by the latest scientific research and industry best practices and serves as the foundation upon which the entire WELL ecosystem is built.
WELL v2 has been in it's pilot phase for the last two years. During that time, it underwent improvement and refinement through a rigorous process, including a six-month public comment period and a final stakeholder review, garnering hundreds of market insights across the two phases.
---
The role that the indoor environment plays in our health and well-being has become even more recognizable as we struggle to contain a global pandemic. Because of this, the IWBI created a Task Force on COVID-19, which I had the privilege of being a member of. The Task Force assessed how WELL v2 could be further strengthened to better support prevention and preparedness, resiliency and recovery.
Some significant changes to the system we made based on recommendations from the Task Force.
These changes included:
Extensively expanding the emergency preparedness feature
Rewarding projects that clean or eliminate recirculated air
Increasing the level of detail of the cleaning and disinfection program requirements
Expanding hygiene support features, awarding hands-free design
Addressing remote work in occupant surveys and education
Some of the WELL Features updated by the COVID-19 Task Force were:
A13 Enhanced Supply Air
W08 Hygiene Support
N07 Nutrition Education
N13 Local Food Environment
V05 Site Planning and Selection
V06 Physical Activity Opportunities
X06 VOC Content in Wet-Applied Products
X11 Cleaning Products and Protocols
M03 Mental Health Services
M04 Mental Health Education
M10 Tobacco Cessation
M11 Substance Use Services
C03 Emergency Preparedness
C04 Occupant Survey
C05 Enhanced Occupant Survey
C06 Health Services and Benefits
C08 New Parent Support
---
Projects pursuing WELL Certification can earn points based on performance outcomes for various policy, design and operational strategies and can achieve one of four certification levels: Bronze, Silver, Gold or Platinum.
CONCEPTS
There are 10 Concepts in WELL v2, increased from 7 in WELL v1. Each concept consists of features with distinct health intents. Features are either preconditions or optimizations.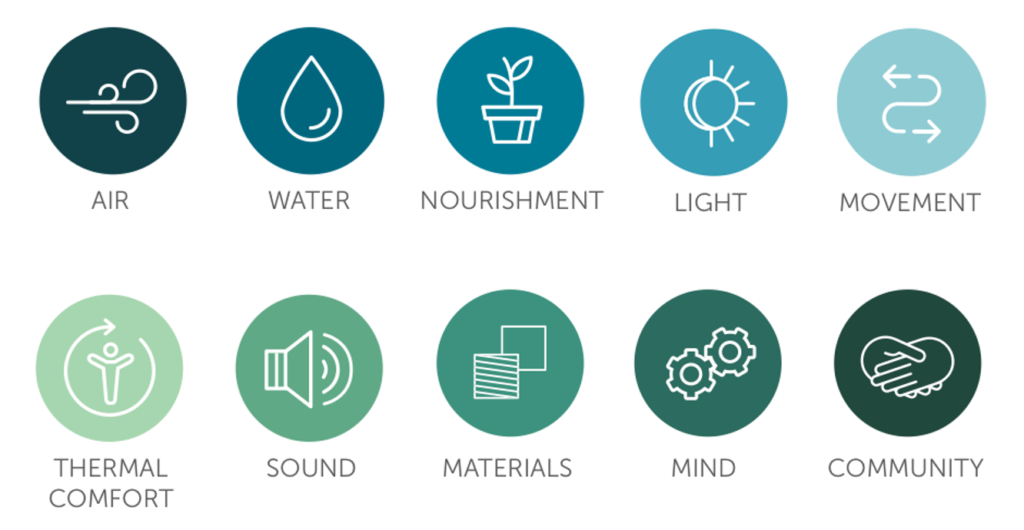 UNIVERSAL PRECONDITIONS
Preconditions define the fundamental components of a WELL Certified space and serve as the foundation of a healthy building. WELL v2 offers a universal set of preconditions for all projects.
All preconditions – including all parts within them – are mandatory for certification.
FLEXIBLE OPTIMIZATIONS WITH MEANINGFUL WEIGHTINGS
Optimizations are optional pathways for projects to meet certification requirements in WELL. Project teams may select which optimizations to pursue and which parts to focus on within each optimization.
WELL v2 operates on a points-based system, with 110 points available in each project scorecard. All optimizations are weighted with varying point values. The maximum point value of a feature is determined by the sum of its parts. A part is weighted by its potential for impact, defined as the extent to which a feature addresses a specific health and wellness concern or opportunity for health promotion, and the potential impact of the intervention.
PERFORMANCE VERIFIED FEATURES
WELL is a performance-based system. Every WELL project is verified through on-site testing of building performance. This practice is fundamental to high-performing buildings and helps project teams better understand the relationship between the physical environment and human health.
The process for on-site assessments and testing is called Performance Verification. On-site measurements are taken for various air and water quality parameters, as well as sound and light levels. It is a distinct process from traditional building commissioning and assures that the building performs as intended, according to WELL requirements.
---
My hope is that COVID-19 has created an increased awareness of how important the occupants of the built environment are to the success of business. If building owners, property managers, designers and occupants all understand how making a healthy building can improve the productivity and happiness of humans, we will be able to foster a culture of health and wellness.
For more information on WELL Version 2, you can visit the official launch page : https://www.wellcertified.com/certification/v2/
There are already hundreds of WELL v2 projects already certified in the United States, check out the list here: https://www.wellcertified.com/directories/projects
Luke Powell, WELL AP, LEED AP
Vice President