Monday, June 10, 2019 – Lexington – 11:30am at TownePlace Suites by Marriott
Tuesday, June 11, 2019 – Paducah
Wednesday, June 12, 2019 – Evansville

Thursday, June 13, 2019 – Louisville

Thursday, June 13, 2019 – Louisville – 3:00pm at Air Equipment Company's office (Cornhole Tournament to follow – You must preregister for this event – scroll down for details)
Please use the form below to register for any of these events:
---
CORNHOLE TOURNAMENT
Thursday, June 13, 2019 at 4pm
Air Equipment Company – 1701 Payne Street, Louisville, KY 40206
Tournament will be held at Air Equipment Company on Thursday 6/13
The tournament will be for the first 20 teams to register (subject to change).
Entry is free for Air Equipment Company Customers and Partners
It will be a double elimination bracket.
There will be 3 games. Best of 3 will advance. After each game teams will switch sides.
If your team fails to show up or start your game within 5 minutes of start time you will be disqualified
Cornhole Rules:
Scoring: We will use Cancellation Scoring. In cancellation scoring, the points of one player cancel out the points of their opponent. Using this method, only one player/team can score in each frame.
Woody: Each woody is worth one (1) point
Cornhole: Each cornhole is worth three (3) points
Example: Red achieves one (1) woody and two (2) cornholes; Blue achieves two (2) woodies and zero (0) cornholes;
7 points – 2 points = Red scoring 5 points for that frame.
The first team to reach 21 points or more will be the winner. There is no penalty for going over 21 points.
Prizes:
First place team will receive Fitbit Versa Lites and second place will receive LG PK3 Bluetooth Speakers.
Please use the form below to register:
---
SPRING 2019 BASKETBALL LEAGUE
TOURNAMENT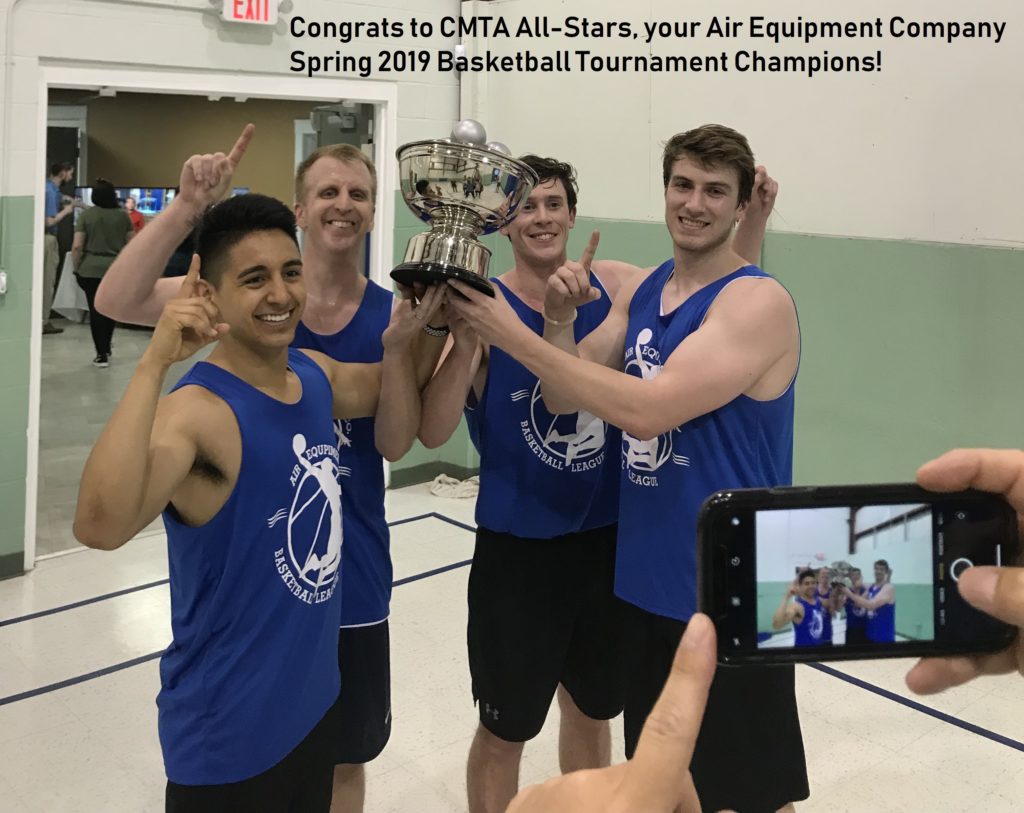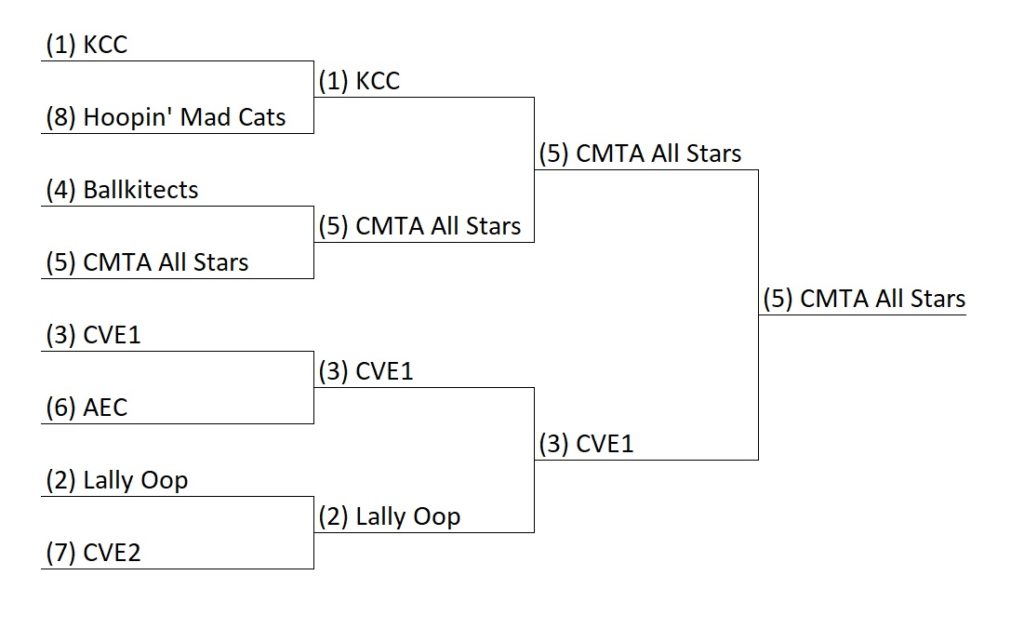 FINAL STANDINGS

SCHEDULE / RESULTS

DateTimeHomeAway
| | | | |
| --- | --- | --- | --- |
| Wednesday 02/20/2019 | 5:30 PM | AEC – 58 | CMTA All-stars – 75 |
| Wednesday 02/20/2019 | 6:15 PM | Ballkitects – 63 | KCC – 75 |
| Wednesday 02/20/2019 | 7:00 PM | CVE1 – 75 | Hoopin' Mad Cats – 36 |
| Wednesday 02/20/2019 | 7:45 PM | CVE2 – 57 | Lally Oop – 65 |
| | | | |
| --- | --- | --- | --- |
| Wednesday 02/27/2019 | 5:30 PM | KCC – 83 | AEC – 78 |
| Wednesday 02/27/2019 | 6:15 PM | CMTA All-stars – 52 | Hoopin' Mad Cats – 56 |
| Wednesday 02/27/2019 | 7:00 PM | Lally Oop – 74 | Ballkitects – 47 |
| Wednesday 02/27/2019 | 7:45 PM | CVE2 – 53 | CVE1 – 81 |
| | | | |
| --- | --- | --- | --- |
| Wednesday 03/06/2019 | 5:30 PM | Hoopin' Mad Cats – 66 | AEC – 63 |
| Wednesday 03/06/2019 | 6:15 PM | Lally Oop – 86 | KCC – 91 |
| Wednesday 03/06/2019 | 7:00 PM | CVE2 – 73 | CMTA All-stars – 63 |
| Wednesday 03/06/2019 | 7:45 PM | CVE1 – 62 | Ballkitects – 64 |
| | | | |
| --- | --- | --- | --- |
| Wednesday 03/13/2019 | 5:30 PM | Lally Oop – 58 | AEC – 46 |
| Wednesday 03/13/2019 | 6:15 PM | CVE2 – 64 | Hoopin' Mad Cats – 58 |
| Wednesday 03/13/2019 | 7:00 PM | KCC – 87 | CVE1 – 91 |
| Wednesday 03/13/2019 | 7:45 PM | CMTA All-stars – 56 | Ballkitects – 65 |
| | | | |
| --- | --- | --- | --- |
| Wednesday 03/20/2019 | 5:30 PM | CVE2 – 33 | AEC – 48 |
| Wednesday 03/20/2019 | 6:15 PM | CVE1 – 65 | Lally Oop – 63 |
| Wednesday 03/20/2019 | 7:00 PM | Hoopin' Mad Cats – 39 | Ballkitects – 49 |
| Wednesday 03/20/2019 | 7:45 PM | KCC – 88 | CMTA All-stars – 66 |
| | | | |
| --- | --- | --- | --- |
| Wednesday 03/27/2019 | 5:30 PM | CVE1 – 50 | AEC – 75 |
| Wednesday 03/27/2019 | 6:15 PM | Ballkitects – 62 | CVE2 – 52 |
| Wednesday 03/27/2019 | 7:00 PM | Lally Oop – 89 | CMTA All-stars – 54 |
| Wednesday 03/27/2019 | 7:45 PM | KCC – 92 | Hoopin' Mad Cats – 73 |
| | | | |
| --- | --- | --- | --- |
| Wednesday 04/03/2019 | 5:30 PM | Ballkitects – 50 | AEC – 60 |
| Wednesday 04/03/2019 | 6:15 PM | CVE1 – 48 | CMTA All-stars – 80 |
| Wednesday 04/03/2019 | 7:00 PM | CVE2 – 50 | KCC – 108 |
| Wednesday 04/03/2019 | 7:45 PM | Hoopin' Mad Cats – 49 | Lally Oop – 77 |
| | | | |
| --- | --- | --- | --- |
| Wednesday 04/10/2019 | 5:30 PM | AEC – 43 | CMTA All-stars – 74 |
| Wednesday 04/10/2019 | 6:15 PM | Ballkitects – 77 | KCC – 92 |
| Wednesday 04/10/2019 | 7:00 PM | CVE1 – 76 | Hoopin' Mad Cats – 65 |
| Wednesday 04/10/2019 | 7:45 PM | CVE2 – 82 | Lally Oop – 71 |
Single Elimination Tournament
| | | | |
| --- | --- | --- | --- |
| Wednesday 04/17/2019 | 5:30 PM | #1 KCC | #8 Hoopin' Mad Cats |
| Wednesday 04/17/2019 | 6:15 PM | #4 Ballkitects | #5 CMTA All Stars |
| Wednesday 04/17/2019 | 7:00 PM | #3 CVE1 | #6 AEC |
| Wednesday 04/17/2019 | 7:45 PM | #2 Lally Oop | #7 CVE2 |
Wednesday 04/24/2019
5:30 PM
SEMI FINAL – #1 – KCC
#5 – CMTA All Stars
Wednesday 04/24/2019
6:15 PM
SEMI FINAL – #3 – CVE1
#2 – Lally Oop
Wednesday 04/24/2019
7:30 PM
FINALS